COBB Pro Tuning Options
As authorised COBB Pro Tuners, we can tune your vehicle via the COBB Accessport if you have one, and of course we can supply a tune and Accessport package if you don't. Read on to see how best we can help you with your tuning.

We can tune your vehicle via the COBB Accessport system in three different ways.

Option 1 - The E-Tune
This is our most popular option by far. We supply the handset and calibration to you by post (or cal only if you have your own Accessport) and you install the tune onto your vehicle yourself. The tune can then be used as it is with no further adjustments should you wish.

However, all of our E-Tunes come with 2x custom tune sessions as part of the price so we can remotely custom tune it to suit your own vehicle perfectly should you wish. More revisions can be purchased if necessary.
Full printed instructions come with every tune to help you take advantage of this feature.



Option 2 - The Dyno-Tune
This option requires the vehicle be brought to our premises where we will tune it on the dyno. Repeated dyno runs will be made and data-logs examined to allow us to tune the calibration to your vehicle.


Option 3 - Feature / Hardware Updates
For those of you already running our tunes, but maybe wishing to add or change some of the features, we can do this remotely too. Maybe you have added a decat or hard pipe kit and want the MIL light rectifying or perhaps your neighbours aren't too happy about your current MSD Extreme pops and crackles and you would like to change to a more neighbour friendly MSD Enhanced version? Or close the exhaust valve below 4000rpm in normal drive mode... This can all be be done via E-Mail.

For more details on the options above, see the relevant section below...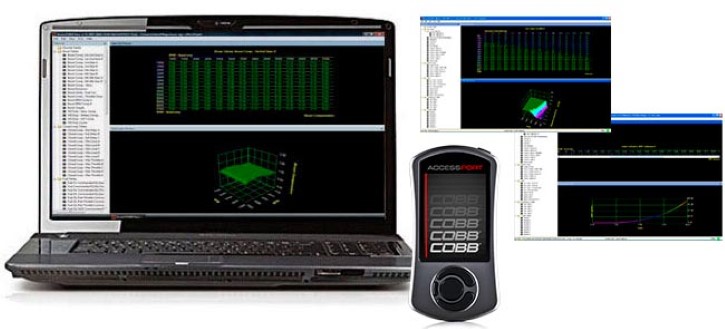 For COBB Accessport owners, our calibrations can be supplied to you same day, via E-mail, so you can be out enjoying the tune immediately without the hassle of time off work, driving across the country and spending the day here with us.

The tunes can simply be installed and driven as they arrive and they will make the quoted power and torque right out of the box (Or the "In-Box" now I guess!) Most people are absolutely happy with this level of tune and go no further.
However, some of our customers want to take it a little further and get "Custom Tuned" and that is why all of our E-Tunes come with 2x Custom tune revisions as standard. (More revisions can be purchased if necessary.)
Custom E-Tuning with MSD is a simple three step process.
Install the calibration to your car.
Perform a data-logging run in 3rd gear
Send us the data-logs.
We will then analyse the data and return you a customised tune to repeat the process.*

OK, so how can you do a custom tune remotely?
This is a common question. Normally you would bring your vehicle to us for dyno time so that we can specifically look at things such as Air-Fuel ratio, Spark advance, knock levels, exhaust gas temp, charge temps and other such parameters. Well one of the greatest things about modern management systems is they have these sensors and logging capability built right into the vehicle! They almost always come with wideband lambda sensors, multiple manufacturer tuned knock sensors, high resolution MAP and TIP sensors and exceptionally detailed and fast logging of all the vehicles parameters.
This technology allows us to obtain data from the vehicle no matter where it is driven. It no longer has to be connected to our laptops and dyno. This means we can analyse the data remotely and make changes to the calibration to see how the vehicle responds when operated in the real world. To initialise this process we simply need you to follow a sequence of driving events and data-log a number of data channels on your Accessport, then send the resulting logs to us by E-Mail.
We supply our E-Tunes with full printed instructions detailing how to set up the data-logger and which channels to log as well as what conditions to perform the data-logging in on your local dyno, drag strip, race track etc.
Once you have got used to your tune you can then send us data-logs and we will adjust the tune to suit your vehicle exactly as we would if it were here on our dyno. The results we achieve are very much the same as if we had the car ourselves and in some cases it can be better, especially if your vehicle has issues being run hard on a dyno. ( A great example of this is a vehicle with traction issues or a vehicle with a top mount intercooler... these coolers work well on the road but are tricky to get right with a fan and some pipes.)
This video was done by a customer of ours and he has done a Vlog of the whole E-Tuning process on his Focus Rs.
E-Tune base pricing:
E-Tunes come with 2x custom revisions as standard and are priced according to vehicle. The price can be found on all our vehicle specific tuning pages. Example: Ford Focus ST Stage 1 (MSD280) costs just £199 inc vat
E-Tune: Extra revisions:
Don't worry, if for some reason you need more than the two custom revisions that the base E-Tune comes with, you can buy more E-Tune revision sessions from us. They are priced at £60 each. This is only commonly needed if your vehicle had issues that stopped us getting the job done with the 2x free revisions (Faulty actuator for example) or if you have a quite serious specification change. For example, if you had a finalised E-Tune with us but then a year later decided to install a turbo back exhaust, sports cat and some cams. We would be able to optimise your tune for those items with two more Custom E-Tune revisions.

Click here to purchase Additional E-Tunes

* We do not guarantee that we will offer any more power in the revised tune. Of course we normally do, but the outcome of any tuning absolutely depends on how your vehicle responds and it is very dependant on the quality of the fuel used in your vehicle. We absolutely will only increased power output where we feel there is acceptable headroom based on the data collected during the logging sessions. If we feel the engine is under duress due to charge temps or knock for example we may well lower your power levels.
The Dyno-Tune
The more conventional option - Tuning on our chassis dyno.

Your vehicle comes with very sensitive knock sensors, high resolution MAP sensors and exceptionally detailed and fast logging of all the vehicles parameters. We will utilise this technology to the maximum while the vehicle is used on our dyno.
Dyno tuning normally follows this sequence of events.
You bring the vehicle to us.
We do a quick check of the vehicle, including a full diagnostic session.
We run the vehicle on our dyno and asses its current power output.
We run the vehicle many more times and amass plenty of data on how the vehicles operating.
We carry out further tuning of the vehicle until we are settled on the best, safest calibration. *
We perform power runs so you have graphs of power etc.

Price:
Average cost is between £300 - £500 inc vat if you already own the base calibration.
(If not, the base calibration will be added to this price...)

This price includes the dyno hire, graphs and labour for two staff to operate the dyno and calibrate your vehicle.
*
We absolutely do not guarantee that we will offer any more power than the vehicle came in with if it was already tuned. Indeed, we may even lower the power a little for safety. The outcome of dyno tuning absolutely depends on how your vehicle responds to the tuning and it is very dependant on the quality of the fuel used in your vehicle.
We will only leave the vehicle with increased power output where we feel there is acceptable headroom based on the data we collect during the dyno sessions.
Calibration of feature or power slot updates.
Remote Tuning By E-Mail.
Already running an MSD tune but just settled ona favourite MSD-Trac setting? Or maybe added a new exhaust? Removed your shutter grills? Maybe you want to change your launch control set-points to better suit some new drag tyres? Perhaps you have changed quite a lot of things and want to move to a whole new power level?

The COBB Accessport technology makes things like this easy.
Just drop us a line with your requirements and we can send you a revised calibration with the necessary changes in.

Examples:
Default your MSD-Trac to "on" at the setting of your choice. (3 maybe)
Shutter Grill disable.
Symposer sound disable (ST FL only)
Stop / Start system disable.
Eco shift light disable.
Shift assist disable (The rev hang between shifts)
Exhaust valve tuning (Adjust when the valve opens - Can be done per mode)
Exhaust valve closed when cold (Close the exhaust valve whilst cold)
Cold start strategy disable (Remove entire catalyst warm-up strategy - Decat cars only)
Launch Control RPM set-point adjustments (Per slot available).
Enhanced Pops and Crackles (Not ST)
Extreme Pops and Crackles - Decat Only. (Not ST)
Adjust crackle RPM set-points (Nothing below 3000rpm in Normal drive mode for example)
Burnout mode adjustments (Not RS)
Valet mode added to slot 4 (MSD-Multimaps only)
Immobiliser added to slot 5 (MSD-Multimaps only)
Upgrade to Multimaps (Multiple power slots, valet mode and immobiliser options)
Upgrade from one power level to another. (MSD280 to MSD300 for example)

All "option" adjustments are £60 per session. (As many changes as you like in one go.)
(Example: Disable Shift Assist and/or default the MSD-Trac traction control system to on)

Power upgrades or multimaps start at £100.
(Example: Upgrading from MSD280 to MSD300 or MSD Multimaps)

Re-Tuning:
Should your vehicle need further tuning we sell E-Tune revisions for £60 each. Buying two of these will give you the same re-tuning time your base calibration originally came with. Click here to purchase Additional E-Tunes