COBB Approved Dealer and Pro-Tuner
Here at Motorsport Developments we are proud to have a great relationship with COBB over in the USA. We are an authorised reseller carrying plenty of stock and we are of course official Pro Tuners for the COBB Accessport platform.
Everything COBB starts with the Accessport - read on...

The COBB ACCESSPORT.
Gauges & Data-logging.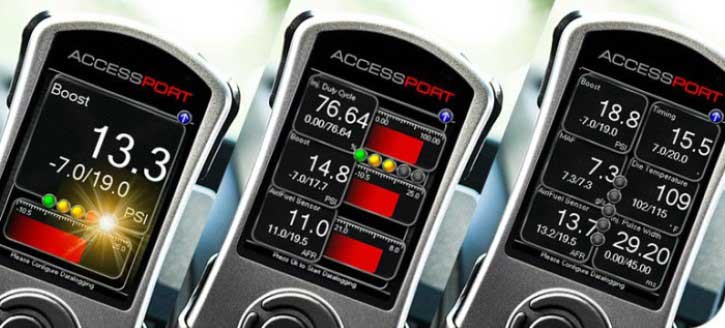 The COBB Accessport provides an incredibly powerful data-logger that allows you to both watch and even record data for up to ten hours from a huge list of over 200 parameters such as AFR. spark advance, knock levels, boost pressure, air temperatures and many, many more.
(See screen above showing 1, 3 and 6 parameters configured)
Up to 6 parameters on screen at one time.
l. E: Boost, AFR, EGT, Timing etc.
Record for up to 10hrs.
Store up to ten log files on the handset.
The COBB ACCESSPORT.
Tuning.
The COBB Accessport provides a very simple way to modify your vehicles performance from the driving seat. The Accessport comes pre loaded with awesome features such as:
Stage 1 ECU Tune. (At least stage 1, some vehicles have more)
The power output varies from vehicle to vehicle of course.
Valet Mode.
This limits your vehicle to 3000rpm and 30mph.


Immobiliser Mode.
This stops your vehicle being started, even by people who have your keys!


Store up to 100 maps.
We can store a huge collection of maps on this handset and switch between them at will.

Custom Tune from pro Tuners.
The handset provides the ultimate way to install and run your car on one of our custom tunes!
The COBB ACCESSPORT.
Code Reader... Shift Lights.... Performance Monitor and More...

The COBB Accessport provides all sorts of additional extras that make you want to keep it connected permanently. First of all its a fully featured code reader allowing you to access and clear trouble codes. It has adjustable shift lights, a vehicle performance monitor and depending on application a huge array of COBB Custom functions that you can access directly from the drivers seat.
Code reading and clearing.
Factory level code reading and clearing. Not just generic OBD like most tools.
User Adjustable Shift Lights.
Adjust the shift light pattern to suit your engine mods.


Vehicle Performance Monitor.
0-60 / 1/4 mile etc.


User Adjustable Rev Limit. *
Adjust the driving rev limit yourself. Handy if you loan the car out.


Flat Foot Shifting. *
With user adjustable limits etc.


Adjustable Launch Control. *
Adjust launch control hard and soft cut limits, without having to navigate Ford menus.


Datalog over 200 parameters.
This not only allows you to record and playback important data, but also makes E-Tuning possible.
* On calibrations where this feature is possible, and enabled.
See COBB website for more details.
Pro Tuning Service.

We can tune your Accessport in 2 ways.
E-Tune
This option is done via email and you install the tune on your handset and into the vehicle yourself. Over the next couple of weeks you will send us data-logs and we will tune it to suit your vehicle.


Dyno-Tune
This option requires the vehicle here and we will tune it on the dyno. Repeated dyno pulls will be made and data-logs examined to allow us to tune the calibration to your vehicle perfectly.